Rate This Blog
3 rating(s)
Blog Action Day
Thursday October 14, 2010
Water and Sanitation: Services, Not Charity Projects
When you turn on the tap one day and no water comes out, what do you do? You call the plumber or the city and complain. You need dependable and quick service, and you usually get it.
It might seem an obvious point, but a lot of development work on water and sanitation has traditionally focused more on building wells or latrines than on helping to catalyze or set up a service that will run forever and always be there when it's needed. Surveys in various countries have found that between 50 and 80 percent of water points in Sub-Saharan Africa are dysfunctional or need repair, representing a colossal problem for those communities and big waste of money.[i]
The US government can provide invaluable support in shifting efforts of organizations working in water and sanitation from a charity to a service-oriented approach. USAID, the arm of the US government that programs foreign assistance, understands this, but they don't have the necessary staff for a truly strategic effort. The Water for the World Act (which you can and should support) will help agencies like USAID make work water and sanitation programs that they fund more strategic by putting in place skilled, senior staff to support national systems and planning in developing countries. Making the shift won't be easy, but it is essential.
To see how this works in practice and in honor of Global Handwashing Day, let's take a simple example: getting kids to wash their hands in school. It's been estimated that getting kids to wash hands with soap at key times could save a million lives a year from things like diarrhea and respiratory infections. So this is, quite literally, one of the most important things we could accomplish as a global society.
If you want school kids to wash their hands, they're going to need soap and water. Simple right? The data suggest not. In a school WASH program in Kenya, we found out during surprise visits that only eight percent were providing soap. It forced us to dig deeper. Part of what we figured out is that Kenyan schools have no budget for providing soap regularly. We're now working on this with the Ministry of Education.
But we know that the budget is only a small piece of the puzzle. The school administration has to prioritize buying soap, something that frequently isn't the case, so public health officials need to come by every so often and make sure no one is asleep on the job. That official needs to have money for fuel to make it to all of the schools to check up on them. She needs to have a standardized tool to monitor the school with so that information can be compiled about how good of a job the district is doing overall. On their end, the school administration needs the budget to buy soap, but they also need training in methods to get kids to wash their hands correctly (we're creating new social norms here!). Local stores need to sell the soap at a reasonable price and with a reliable supply chain, so now the private sector is involved as well. And I haven't even started talking about how you make sure a school has clean water.
The simple fact is that a lot of the public and private systems we take for granted as Americans are missing in many places in the world. I've been to schools in Central America and Sub-Saharan Africa alike where soap wasn't being provided to kids after they used the toilet, precisely because issues like budget or accountability haven't been figured out.
It's getting to this level of supporting national public and private systems that is critical if we're ever going to move the meter in a meaningful way.To get there, major donors like the US need to definitively get beyond charity projects and think seriously and critically about how the work they are funding will lead to long-term services that are there when people need them.It means taking a backseat to the government and private sector actors who will be there long after the foreign aid dollars cease to flow.Officials in the US government realize this, but you can help give them a head start by supporting the Water for the World Act today.
---
[i] "Where every drop counts: tackling rural Africa's water crisis." International Institute for Environment and Development. March 2009.
We can, so we must!!!
The much awaited COP 15 in Copenhagen, Denmark is finally here and from today, Monday 7th December till Friday 18th December, the world will witness with full stare the commitment of our leaders…better still If I may borrow the words of Connie Hedegaard, whether our leaders are ready to "move the world from an era of talk to an era of change".
Since the inter-sessional climate talks in Bangkok, I have seen increased interest by Africa and for that matter my country Ghana, in the governance of climate change. Ghana government and other NGOs in Ghana such as Friends of the Earth, Civic Response and SEND Ghana have expressed the need to pressure the developed countries to take on emission reduction commitments that are required to avoid dangerous anthropogenic climate change that threatens the survival of humans as a species.
Over the past couple of months, my government has undertaken what one may call necessary baby steps in the governance of climate change especially in the vein of having a participatory climate change governance system in-country. The genesis of this participatory process has involved information sharing on the issues of climate change and subsequent discussions to pick up from the Ghanaian citizenry their ideas on addressing climate change. Workshops and seminars have been held for variant citizenry groups such as NGOs, traditional authorities and media. The culmination of all these workshops was a national forum held on 2nd December that informed citizens the position that Ghana was taking to COP 15. Among other things, the main highlight from the national forum was that Ghana along with the other countries of the African Group was going to COP 15 to ask for the developed countries to take on emission reductions of at least 40% below 1990 levels by 2020.
Coming from a country that is experiencing impacts of climate change and may experience worse, I am hoping that developing countries can actually make the Annex 1 countries especially USA to feel the heat for the need to take action. It is a welcome thought that Presidents and Prime ministers of certain countries will be present at the COP 15 but let us hope that they do more good than harm; it is either they are instrumental in helping come out with a good legally binding deal or by their presence, rather draw attention to themselves and let focus be lost in the negotiations and thus they delay the process.
We all know how great an orator President Barack Obama is, and I for one am worried that USA may be playing the "Obama-mania" card with his Excellency's presence at the COP. Serious negotiations under COP 15 may become arrested due to the presence of "Pollywood celebrities" such as his Excellency President Obama. For those of us from developing countries, the possibility of this stunt spells double doom as a USA is not prepared to take on serious commitments and may by this act delay what the negotiations could achieve.
I am not familiar with the USA system of governance but it is interesting to note that when it comes to Climate change negotiations, the President declares his inability to contribute anything concrete until a bill is passed through the senate; however, when about 30,000 soldiers had to be sent to Afghanistan, there was no waiting for the senate to decide, the President just announced it…this leaves me to wonder, how devastating does USA want Climate change and its impacts to become before they get serious?
As a working partner of the CARE "Southern Voices Project", I am by this asking the developing country delegates and negotiators to pressure the developed countries to take on deep emission reduction commitments and also asking the Annex 1 countries especially USA to "STEP IT UP"…if greenhouse gas emissions continue, it is not Mother Earth who will die but rather the human race who will as Mother Earth adjusts other components in her system in accordance with the GHG concentration in the atmosphere to ensure a balance.
We owe it to the generation yet unborn to save our climate …we can, so we must!!!
LIVELIHOOD OF POOR: A CENTRE AGENDA OF CLIMATE CHANGE TALK
Livelihood of Poor: A CENTRE AGENDA OF Climate Change Talk

Climate change is not only a debate among the sellers and buyers of CO2. It is the related to the livelihood of poor and marginalized people which are under the risk situation as the impacts of the climate change.d

The affects of the climate change can observed around the world, however the poor, marginalized people of the poor world are adversely suffering. The developed and industrialized countries those are liable and responsible for climate change should honest, accountable to address the impacts also.

The impacts of the climate change are observed elsewhere. Occurring of drought, flood and unpredictable rain fall patterns have adversely influenced on biodiversity, plants' habitats and habits including agricultural activities in local level. Numbers of evidences are noted as the impacts of climate change in local level, such as: change in vegetation pattern, habitat expansion of crops and species, and loss of biodiversity (some valuable species). These have big implications to the livelihood system of the local communities especially poor and marginalized groups. Resulted is that women and children under poor, marginalized group are more vulnerable and in risk conditions. The situation is being worst and unpredictable. Every year hundreds of people are suffering, due to the exposure of vector-borne diseases like; as malaria, diarrhea, cholera and hunger. Likewise thousands of people are displaced as the flood and landslide victims in the country.

The negotiations process of the climate change is still uncertain and unpredictable. To address and response of current vulnerabilities therefore, has become an urgent need. I think livelihood of the poor vulnerable communities should be a center theme for making strategies and measures to cope the impacts of climate change as they are likely to become more prevalent.

Communities are trying to response to address the threats of climate change in local level based on practical experiences and knowledge. But these initiations are not adequate to address the magnitude of climate change threats. Therefore need base technology is an important to minimize the effects of the climate change and to develop the appropriate technology and capacity enhancement of the people are also crucial issues to address the results and impacts of the climate change.

On this context, the developed nations who are more responsible to debasing the climate should pay more attention and priority on livelihood of the poor people of the poor world during the of climate change talks.


Thursday November 5, 2009
How to stop 51% of ghg emissions
In the run up to the
Copenhagen
climate change conference, it is vital the following information be disseminated to the public as well as to our political leaders.
A widely cited 2006 report by the United Nations Food and Agriculture Organization, Livestock's Long Shadow, estimates that 18 percent of annual worldwide greenhouse gas (GHG) emissions are attributable to livestock….however recent analysis by Goodland and Anhang co-authors of "Livestock and Climate Change" in the latest issue of World Watch magazine found that livestock and their byproducts actually account for at least 32.6 billion tons of carbon dioxide per year, or 51 percent of annual worldwide GHG emissions!
www.51percent.org
The main sources of GHGs from animal agriculture are: (1) Deforestation of the rainforests to grow feed for livestock. (2) Methane from manure waste. – Methane is 72 times more potent as a global warming gas than CO2 (3) Refrigeration and transport of meat around the world. (4) Raising, processing and slaughtering of the animal.
Meat production also uses a massive amount of water and other resources which would be better used to feed the world's hungry and provide water to those in need.
Based on their research, Goodland and Anhang conclude that replacing livestock products with soy-based and other alternatives would be the best strategy for reversing climate change. They say "This approach would have far more rapid effects on GHG emissions and their atmospheric concentrations-and thus on the rate the climate is warming-than actions to replace fossil fuels with renewable energy."
The fact is that we are being informed of the dangerous path we are on by depending greatly on animal flesh for human consumption. We still have the opportunity to make the most effective steps in saving ourselves and this planet. By simply choosing a plant based diet we can reduce our carbon foot print by a huge amount.
We are gambling with our lives and with those of our future generations to come. It's madness to know we are fully aware of the possible consequences but yet are failing to act.
Promoting a plant based diet to the public is would be the most effective way to curb deforestation, we hope this will be adopted as a significant measure to save the rainforests and protect the delicate ecology.
Thank you for your consideration.
Thursday October 15, 2009
Poor Women: The Human Faces of Climate Change
By CARE
www.care.org/climatechange
Look at the places around the world where people are adapting to climate change and you're bound to see the same group bearing the heaviest burden: poor women. That's pretty much the definition of unfair, given that they're least responsible for the problem. And in so many countries, barriers stand between them and the assets they need build up their resilience -- things like land, credit, new technologies and places in decision-making bodies.
Yet, somehow, poor women are finding power in one thing: each other.
That was as clear as the Ugandan sky on a recent sun-drenched day in the village of Mubuku. Two leaders of the Bakyara Tweyimukye village savings & loan association sat down to explain how they are being affected by climate change - and adapting to it. Annette Agaba, a mother of five, lead the associated that has made loans for handicraft businesses, tree plantings, "kitchen gardens," and income-generating activities such as goat and poultry rearing. She chose to rear rabbits. Maria Gorretti Kasawuli has taught other mothers how to grow "kitchen gardens." Hers bursts with herbs like dodo, sukuma and eggplants.
Though they have not a keyboard or an email address, we at CARE wanted them to be part of Blog Action Day. Here are their voices, as captured by CARE's Tracy Kajumba, in a home in western Uganda.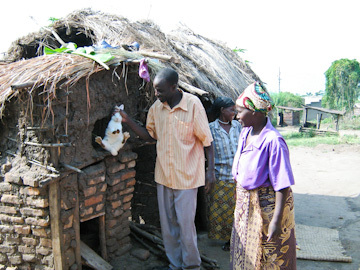 AGABA: "This community depends on agriculture and used to get high yields from maize, beans, ground nuts and many other crops. However from the 90s, the situation has changed. We used to predict rain and prepare our gardens and plant but now days we cannot predict anything. When you are expecting rain, you get scorching heat that destroys all the crops. When you expect sunshine, you get heavy torrential rains that wash away all the crops and sweep away the house tops!"
KASAWULI: "We started with promoting hygiene and sanitation in our homes due to the high prevalence of cholera in our area. Every time we came to save, some one talked about sanitation issues and we visited each other to assess compliance. After that we were hit by floods and after affected by drought which made it difficult for us to get money, and as a group we decided to do a reflection and take action to survive. We realized that we can no longer survive on agriculture alone and agreed to diversify and buy goats using the money from the group . . . I bought a goat but had no where to keep it, and had to share my house with it. My husband later supported me and constructed a room outside. The goat produced two kids initially, I bought two more and they have now multiplied to seventeen."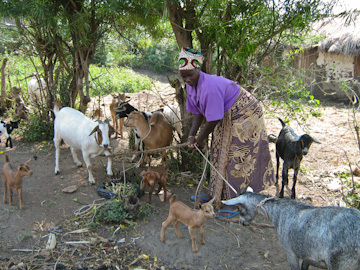 AGABA: "I have also ventured into keeping rabbits which are delicious for meat and are very marketable. Diversification is the only way to go to manage the weather changes."
KASAWULI: "We have agreed in our group that every homestead should have a kitchen garden. It does not need a lot of land. You can use old basins, jerry cans, or sacks to plant your greens and vegetables. It is also easy to water the garden since it is near, small and therefore needs little water. Ten households so far have established the kitchen gardens and this has supplemented on sauce in the face of hunger and increased food prices, and we also sell the surplus to the neighbors."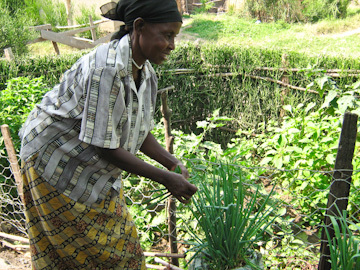 What will a good deal in Copenhagen look like?
By careaustralia
In the same week that I joined CARE's advocacy team in Bangkok for the UN climate change talks, CARE's emergency teams were responding to the consequences of typhoons, droughts and floods in the Philippines, Vietnam, Laos, Cambodia, Ethiopia, Kenya, Somalia and Guatemala – some of the poorest communities in the world.
Whilst I was in Bangkok I was trying to influence government delegations negotiating a global deal to follow on from the first phase of the UN's Kyoto Protocol. It seemed surreal that there I was, worrying about how to get a good global climate deal, while so many of my CARE colleagues were on the ground helping people respond to and recover from a seemingly endless series of disasters. Whilst the world's governments are arguing about it, those people most vulnerable to the impacts of climate change are already feeling its effects, and these effects often fall disproportionately hard on women. These very same people are being forgotten in the fog of politics.
These negotiations in the lead up to the United Nations Climate Conference in Copenhagen in December this year are not just about parties agreeing on a nice form of words, by taking a middle path. Those most vulnerable to climate change need three things for good deal in Copenhagen: scientifically sound reduction in emissions, a massive scale up of funds in line with needs, and commitments in the agreement that those people and groups most vulnerable will be prioritised and meaningfully engaged.
However, the parts of the draft treaty text that give priority to the most vulnerable people and groups are under dispute. Some countries want that text eliminated but, to their credit, some others, such Australia, want it kept in. The negative effects of climate change are being felt already, today, by people. And if vulnerable people and groups are not given a place in the text that will hopefully be agreed in Copenhagen then the deal will fail one vital test: being good for people.
Take the case of Vietnam where rising sea levels and more frequent storm surges are a real threat to the coastline. Data already shows these storms are arriving more frequently and this looks likely to continue. Adaptation money (funds that allow communities to adjust to the affects of climate change) could be spent on building a concrete sea wall, which it has been shown cannot hold back the ocean. Or it could be spent on working with communities to replant and maintain mangroves that protect the coastline, harbour marine life and provide a sustainable source of income. CARE's experience tells us that these more creative solutions, and not the most obvious technical fixes, are the ones that work best, last longest, and benefit the most people.
A good deal in Copenhagen needs to first and foremost be about people, groups and communities. If the agreement does not reflect that then we will have failed those people that need us most and who have contributed the least to climate change.
Time to Take Action
Today is Blog Action Day, and the topic - climate change. As we take the time to blog - and exchange views - I hope each of one us also takes the time to call or write our Senators and urge them to take strong and immediate action to address climate change. Nothing we do could be more important right now. Our Senators need to hear from us. They need to hear that we care about the people in extreme poverty, who are least responsible for but are most vulnerable to climate change. More than one billion people already struggle on less than $1.25 a day and live on a razor's edge of crisis. Climate change threatens to push them over that edge.
This morning, the Senate Foreign Relations Committee's subcomittee on International Development and Foreign Assistance, Economic Affairs, and International Environmental Protection held a hearing on drought, flooding, and refugees and addressing the impacts of climate change in the world's most vulnerable nations. This hearing could not be more timely. Over recent weeks, CARE has been responding with humanitarian aid and supplies to an unusual number of simultaneous, mostly weather-related emergencies around the world. These emergencies include those in the Philippines, Vietnam, Laos, Cambodia, India, Ethiopia, Kenya, Somalia and Guatemala related to typhoons, severe droughts, floods and landslides. These significant emergencies illustrate the potential threat that experts have described of the increasing frequency and numbers of natural disasters, and they highlight the challenges we may face in the coming decades.
Senators John Kerry and Barbara Boxer introduced the Clean Energy Jobs and American Power Act, S. 1733 on September 30. This legislation is a critical step toward US leadership in tackling climate change. The bill that passed the House of Representatives in June was a great start; now it's up to the Senate. The Senate can show that the United States is ready and willing to tackle the threat of climate change by agreeing to stronger cuts in our own greenhouse gas emissions and by increasing support to help people in extreme poverty adapt to new climate conditions.
On December 7, representatives from 192 nations meet in Copenhagen and are expected to reach a global deal on climate change. There is no time to lose. Effectively addressing climate change requires a global response based on a shared sense of community. The US cannot do it alone but we can lead global efforts in this lifesaving movement. Please, let's call our Senators and ask for their support for strong US action to address climate change and provide robust resources to help the world's poorest adapt. This would show the world that the US is committed to leading efforts to address climate change and to creating a better future for all.